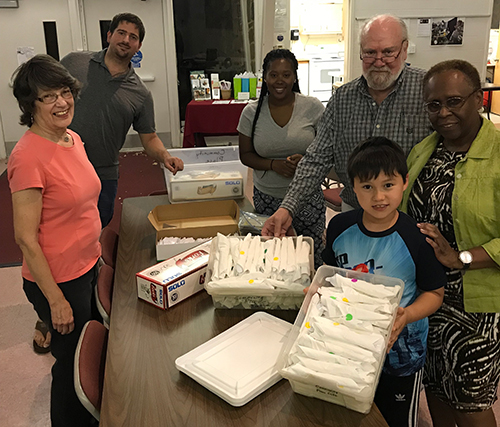 Thank you for planning to worship with us or join us for a special event. We know visiting a church for the first time can be intimidating. Here is some information to help your visit go smoothly.

First-Time Gift
Every first-time visitor receives a small gift as a simple "thank you" for visiting with us. We know it's hard finding a faith community to call home and trust that God will lead you to the church that will nourish and challenge you.

Parking
We have three parking lots, as well as plenty of additional spaces along the main drive through our campus. There are special spaces set aside for first-time visitors. Please feel free to use one of those spaces and enter through the main entrance.

Public Transportation
We are blocks away from the PG Plaza metro stop on the Green line. The F6 bus stops right in front of Northwestern High School, next door to the church on Adelphi Road.

Nursery
Our nursery is open at 10:30 AM. You can find it down the main hall on the left. There are baby-changing stations in the nursery and in all of our bathrooms.

Accessibility
Our building, including our main entrance, sanctuary, and bathrooms, are handicap-accessible.

Dress Code
Our church dresses with diversity. Some like to wear suits and dresses. Others choose to come in jeans and t-shirts. We'd rather have you join us for worship than feel nervous about what you have to wear.
During the COVID-19 pandemic, our work to welcome you is ongoing and flexible. Your safety and the safety of our community is our priority. We are requiring masks and temperature checks. Please get a vaccine.